Turquoise

$2.50 each     





OR        2 for $4.50


Multi Stone (Made with assorted real gemstones; every one is different  - some fans have synthetic turquoise mixed in - see photo example)

$2.50 each    





OR        2 for $4.50





Unakite

$2.50 each     





OR        2 for $4.50




Black Onyx  

$2.50 each     





OR        2 for $4.50






Red Jasper     

$2.50 each     





OR        2 for $4.50


Sodalite 

$2.50 each     




    OR        2 for $4.50

Amazonite

$2.50 each     




  OR        2 for $4.50

Leopard Jasper

$2.50 each     




  OR        2 for $4.50







A variety of bone beads and embellishments to add to your gourd projects!

All beads are drilled. *Bone products are a natural byproduct from the food industry.

Fantastic embellishments for Gourd Masks and other projects!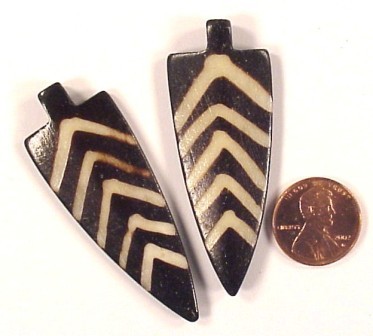 African design bone Arrowheads

2 for $1.50


10 for $7


Carved bone "Tusks"

2 for $1.50

10 for $7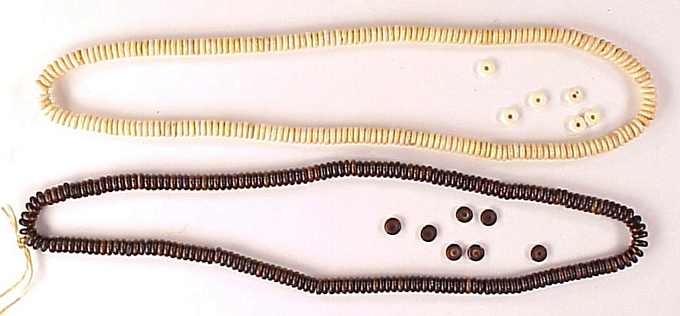 4mm Bone "washers". Strand of about 200 pieces.   Available in antique white or coffee color.   $2.50 per strand.

Antique White 



        Coffee  

4mm
antiqued round bone beads. Strand of about 100.
$2.50 per strand.

Please email me if you have questions about your order, or prefer to not use the shopping cart feature.  The shopping cart is designed for optimal operation when used with Windows Explorer.

*Looking for Quills, Horsehair, Chopsticks, Beaded and Feathered cabachons and other special items?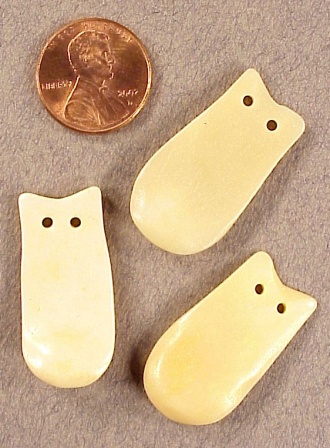 Antique Bone "Elk Teeth"

Bag of 10 - $4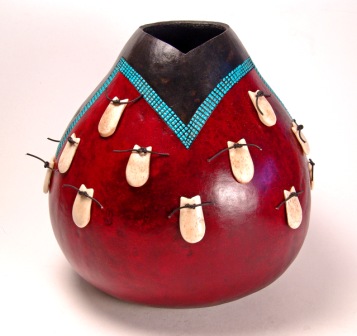 "Elk Tooth Dress"

Gourd decorated with bone elk teeth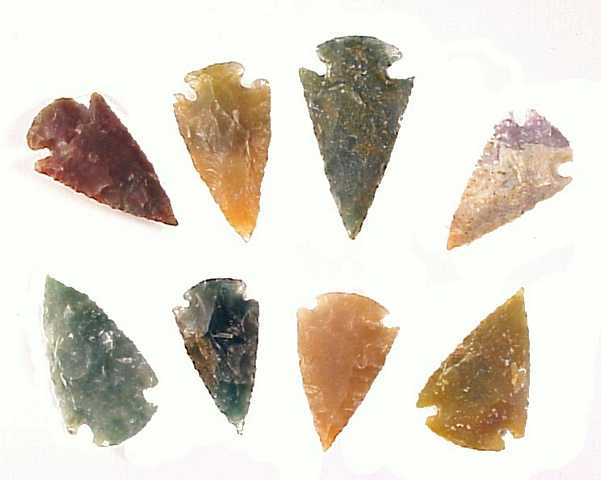 Agate Arrowheads

These arrowheads are really nice quality.  Each one is sharp and could actually be used on arrow reproductions.  Each one is cut from agate, and no two are alike.  The stone colors range from creamy tans and whites to jade green and brick red.  Each one is about 1 1/2" in length. 

$1 each




6 for $5





This gourd has an arrowhead accent.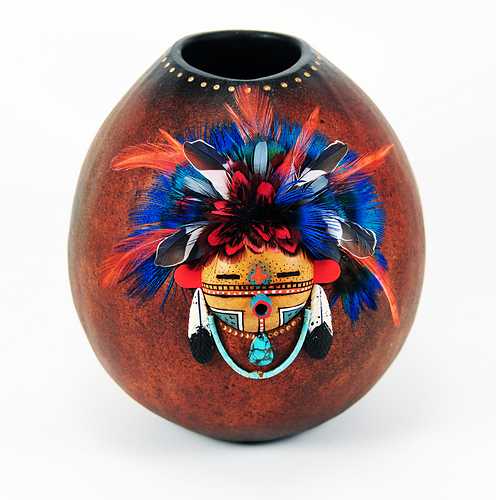 Carved Bone Feather Earrings

Assorted designs - handpainted, and decorated with beads and a hanging loop and earwires.  These look great on projects like the "Mask Vase" shown above - or wear them as earrings!    

Matching Pair with ear wires: $3



New - Painted JayFeather Earrings

These are made from bone and are painted to resemble Blue Jay Feathers.

Matching Pair with ear wires: $3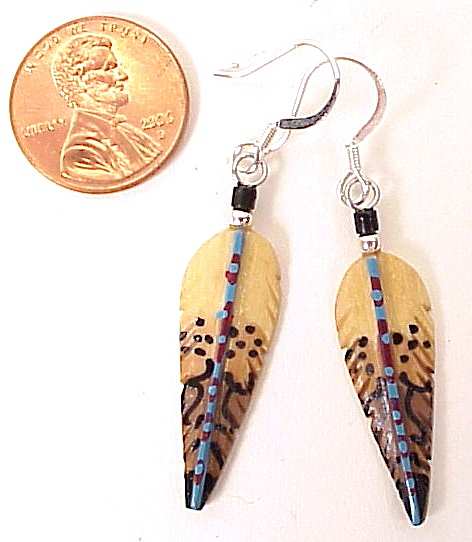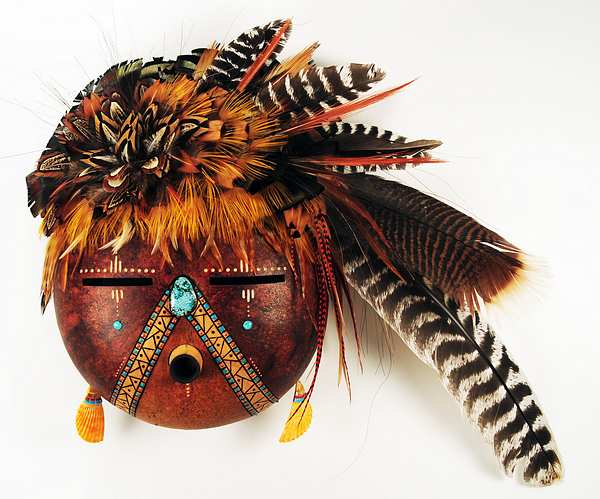 *Looking for Metal Cones, Conchos, Studs  and other Metal items? 

Bone Beads and Embellishments

*Looking for Dichroic Glass Cabochons, Glue on Jewelry Bails, and other special items?  Glass Supplies
*Looking for Heishi, Turquoise Cabochons, Ammonites and Arrowheads?

To make each page load faster, these items have all been moved to their own pages:

*Looking for Kits, Display items, Oil Candles, Dreamcatchers and miscellaneous items?

Mask vase with bone feather accents.  "Masquerade Vase" project instructions available on the
Project Packets page.
BEST VALUE! "Mudbeads" These beads are made from bone or horn, and have been carved or decorated with a wax resist type decorating.  Each one is different, see the closeup photos for detail.  The strands are 16" long; the number of beads per strand varies.

Special Purchase - $2 per strand  (Regular retail price is $4)

*Assorted styles and shapes.  Please write if you have a special request.


Here are some examples of the types of projects where you might use some of these special embellishments.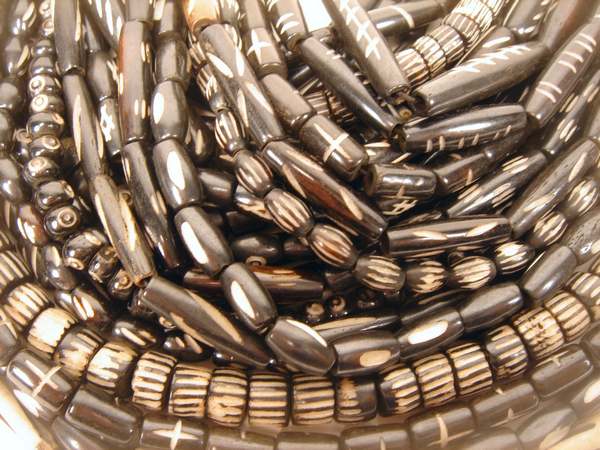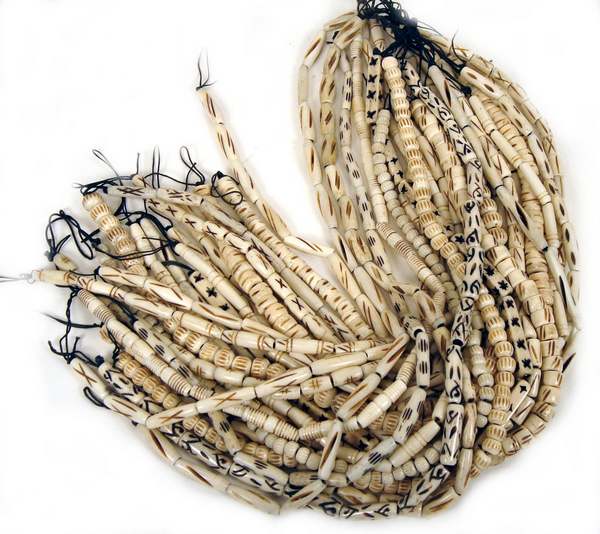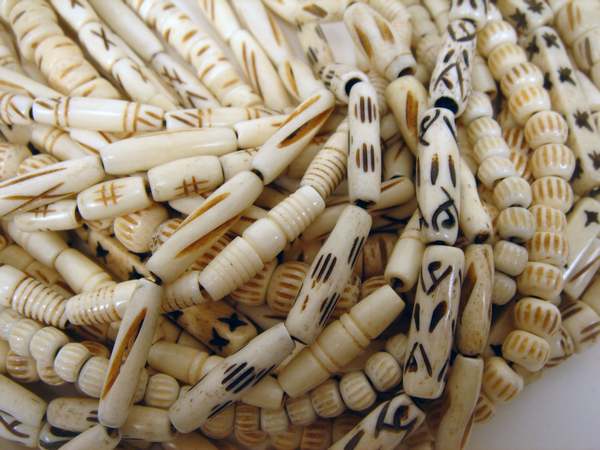 Light -Assorted Resist Design  Mudbeads.

Carved Design -

Assorted Antique Bone Mudbeads. Some are plain, some have black accents.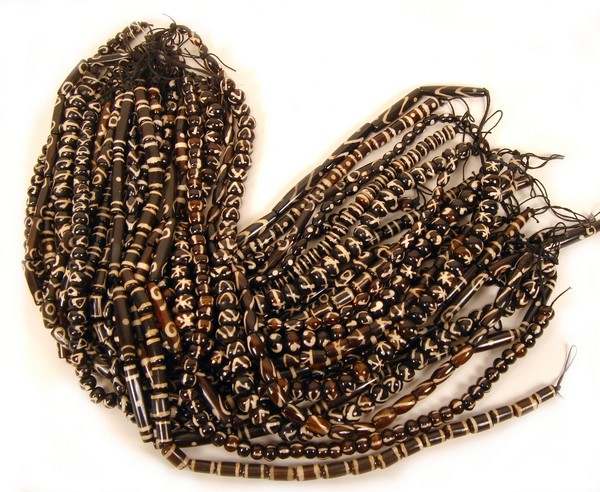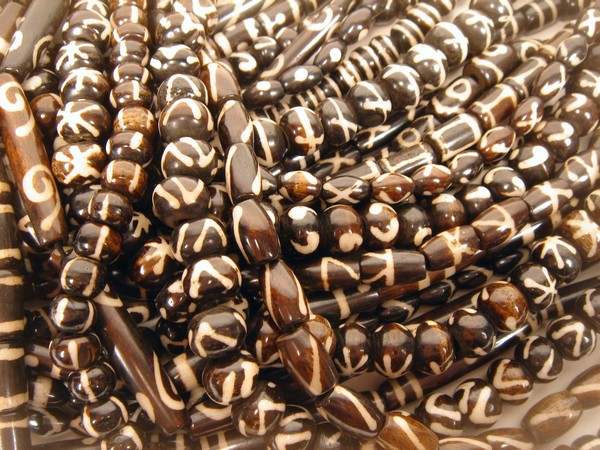 Inlaid Shell Earring Pairs

Half Shell $8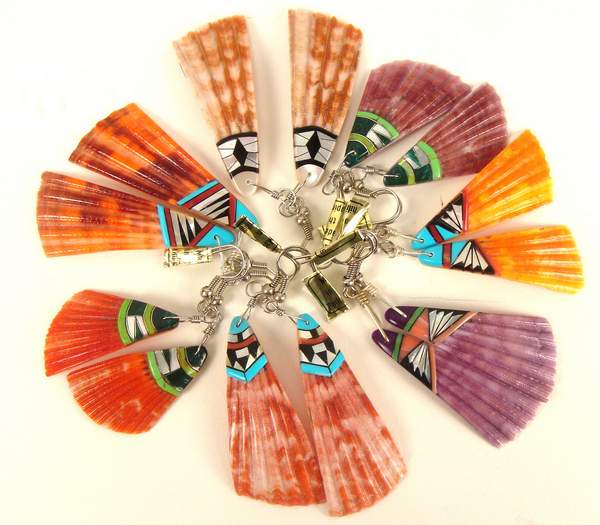 These beautiful earrings are lovely to wear -  but also make fantastic accents on gourd masks!

Each pair is handmade in the Phillipines, and the shell and stone inlays are all hand done by a master craftsman.  Because they are natural shells, each one varies in size, color, and inlay pattern - but all of them are beautiful!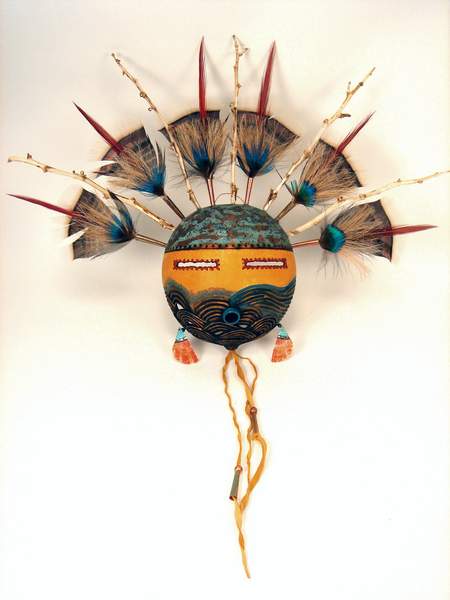 Mask with inlaid half shell earrings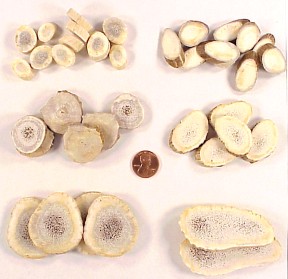 Antler Slices - Current stock: 

Medium to Large slices (middle row and bottom left row)

Bag of 4-5 slices for $1.50

Extra Large slices (bottom right)  2 for $1.50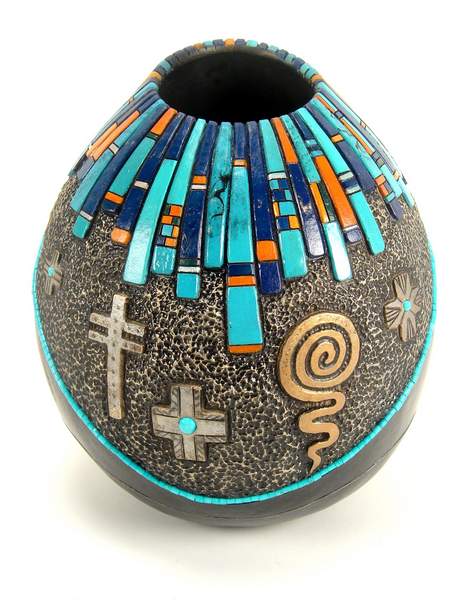 Carved gourd, inspired by stone fans.

Copyright 2011 Bonnie Gibson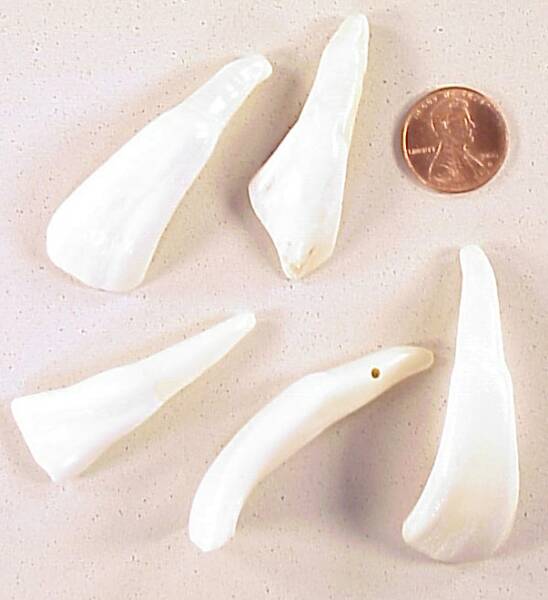 Buffalo Teeth  - Drilled and ready for hanging from masks or to decorate gourd rims.

Bag of 10 Buffalo Teeth - $3 

Dark -Assorted Resist / Carved Design  Mudbeads.


Turquoise Dyed Howlite







Black Onyx



Red Jasper









Unakite







Leopard Jasper







Multi Gemstone - Assorted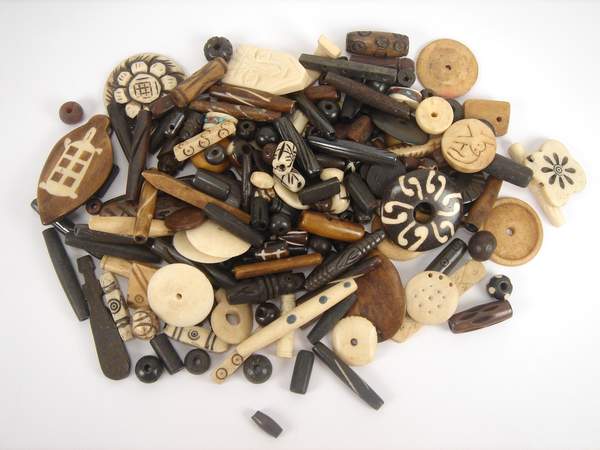 Mixed bone bead assortment

2x3" bag filled with a random assortment of shapes, colors and sizes. Every bag is different. $1.50

Stone "Fan" Accents

Choose from many kinds of stones. Shown with a quarter for scale.

Use them around a gourd neck and create a great necklace effect on your art  - or use them to make a great piece of jewelry for yourself!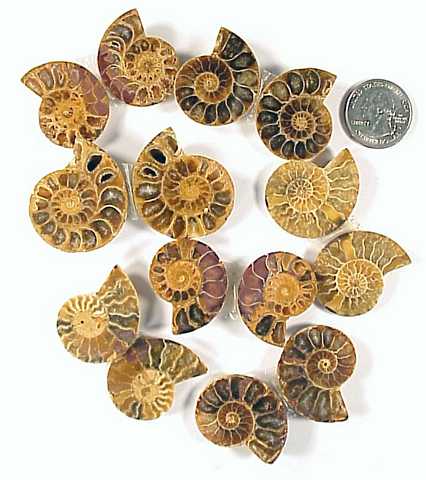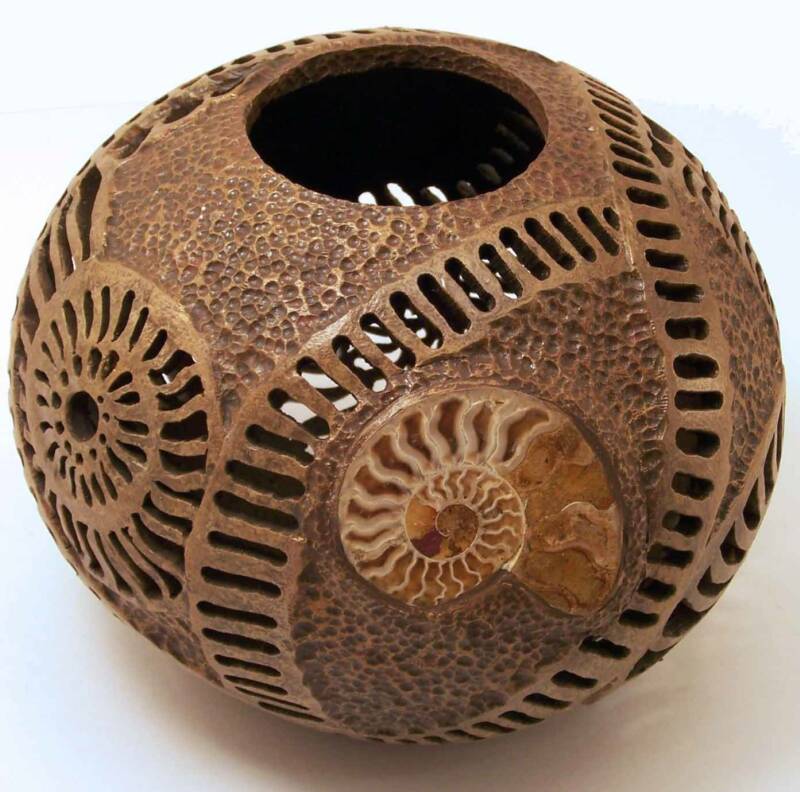 Ammonite Pairs

These are real fossils - and each one is different.   The fossils have been sliced in half and polished.  You'll get a matching pair made from the same ammonite.

Sizes vary from about 1" to 1 3/4" wide per piece.

$6 per pair. 

Carved gourd with inlaid ammonites by Phyllis Sickles

NEW  - Heavy Inlaid Shell Earring Pairs

Mostly inlay, some shell  $10