Mini Saws, Transformers

& Replacement Blades

Tips for using a mini saw:

Hold the saw foot firmly against the gourd surface during the cutting operation to minimize blade breakage. 

Do not turn the saw on until after the blade is inserted into the gourd.

Cut slowly - never force the saw.


27502 Proxxon Jigsaw Kit

Contents:

28534 Proxxon Jigsaw STS 12/E

38706 Transformer NG 2/S

38700 Footswitch

Eight Jigsaw Blades - 5 Coarse, 3 Fine blades

Ball Shoe Attachment

Heavy-Duty Carry and Storage Case

Owner's Manual

This kit contain everything you need to cut gourds. The kit comes with two types of shoe attachments: The flat shoe attachment allows for more stability; the ball shoe attachment allows for more maneuverability when cutting the neck of the gourd or making intricate cuts and tight curves. The shoe can easily be changed by removing the screw on the bottom of the shoe.

The jigsaw is ideal for cutting gourds. Cutting capacity: Wood up to 3/8", Non-ferrous metal 3/32" The unit is variable speed between 2,000-5,000 strokes/min.

Included in the kit is a foot control switch allowing you to easily start and stop your jigsaw by simply pressing your foot on the switch. The 2 amp  NG 2/S transformer is powerful enough to handle most of your gourd needs. The carry and storage case is heavy-duty, use it to take to take gourd classes or to store your jigsaw when not in use.







$140
Prices include FREE shipping (continental US)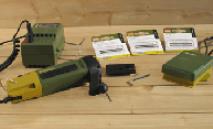 Please email me to order the saws and saw kits - they will be shipped to you direct from the distributor via UPS.


Minicraft saw blades


Coarse - for wood and plastics 

4/pkg. - $5.75 per pack

Fine
- for metal or wood  


3/pkg. - $5.75 per pack

Proxxon saw blades

Coarse - for wood and plastics            

2/pkg. - $4.50 per pack

Fine
- for wood and metal



2/pkg. - $5.50 per pack


NOTE: These saw blades are interchangeable and can be used in Minicraft, Proxxon and the Gourd Saw brand saws.  The Minicraft coarse are the coarsest and fastest cutting blades and are a good value; they are my favorite for gourds.  The Minicraft fine blades are roughly equivalent to the Proxxon Coarse. 


Please email me if you have questions about your order, or prefer to not use the shopping cart feature.  The shopping cart is designed for optimal operation when used with Windows Explorer.



Minicraft Maintenance Kit

Includes a replacement hex key, two factory set screws and two blades, one fine and one coarse.  $4.50     

Out of Stock

27503 Proxxon Deluxe Jigsaw Kit

Contents:

28534 Proxxon Jigsaw STS 12/E

38704 Transformer NG 5/E

38700 Footswitch

Eight Jigsaw Blades - 5 Coarse, 3 Fine blades

Ball Shoe Attachment

Cardboard Carton

Owner's Manual

This kit is almost identical to the saw shown above, but includes the heavy duty NG 5/E transformer, which provides the most power to cut through the thickest gourds.  This kit also has a variable speed control and three outlets for additional 12v power tools.  This kit does NOT include a carrying case.

$175

Price includes FREE shipping (continental US)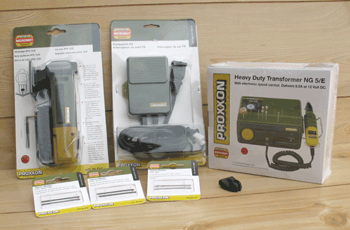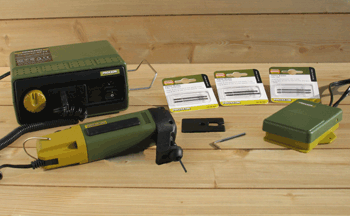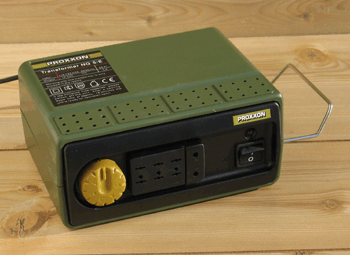 Want to upgrade your current Proxxon Saw system or replace an old transformer? 

For use with 12v power tools, such as the Proxxon Jigsaw, or other 12v brand of power tools including Microlux tools and the Gourd Saw.  (Will also work with the Minicraft saw with the addition of an adapter cord.)

Features:

Compact Design

5 Amps

Three outlets for additional 12v tools and one outlet for standard banana plugs (5/32" diameter)

Variable speed control

LED for readiness use

Overload circuitry with auto reset

Storage holes for bits

Foldable tool rest 






$72
Price includes FREE shipping (continental US)

We can also provide you with other replacement parts including the basic jigsaw, foot pedal, small transformer and other Proxxon tools.  Send me an email for more information.

Tip:  Inexpensive replacements for Microlux Brand Jigsaws and Cross (Gourd) saws

Instead of the regular replacement blades, you can also use scroll saw blades in the Microlux mini jig saws (regular flat plate saw and the cross saw ball foot). The Olson 45000 saw blade is a high quality blade that works well as an alternative, and these saw blades will cost a fraction of the microlux blades.

Simply clip the blades to the approriate length (approximately one inch, or you can even make them just a bit longer) with a pair of heavy wire cutters.  Alternatively, cut them with a small stone cutoff wheel mounted in a Dremel tool - (these are the small stone discs that are found in almost every kit, and they are used in conjunction with a mandrel.)   *Be sure to wear safety glasses when cutting the blades! You should get several mini blades from one scroll saw blade. 

*I have not found a good substitute for the larger blades used in other brands of saws - scroll saw blades are too thin for for use in the Proxxon, Minicraft and Caning Shop Gourd Saws.

NOTE:  I highly recommend the heavier duty transformer!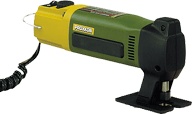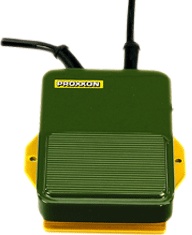 Back in Stock - Minicraft jigsaw

Saw only, no transformer.  May be used with Minicraft or Proxxon transformers.

Extra Features:

Includes a Proxxon transformer adapter plug.





$72
Price includes FREE shipping (continental US)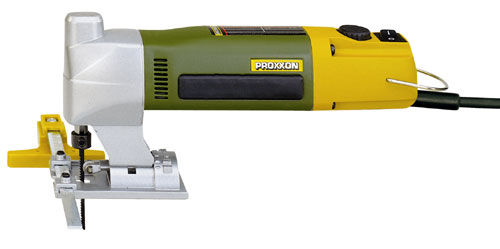 NEW!  Proxxon Super Jigsaw

This tool offers fantastic cutting capacity with a footplate that is adjustable up to 45 degrees for angled cutting.  The housing head is made of die-cast aluminum, and has an electronic speed control for speeds from 2,000 to 4,500 RPM. 

This saw does NOT require a transformer, and because of this it weighs a bit more than the transformer models.  There is no ball foot available for this model.

The saw is packed in a plastic case with 4 blades suitable for gourds and other materials.  (These are the same saw blades used in the other mini saws and are also sold separately above.)   

$140   -  Price includes FREE shipping (continental US)

Optional:  Add on foot switch which can be used with any saw.  $25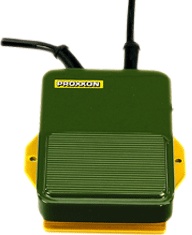 Optional add-on foot switch