I am a self taught artisan.  I prefer this term over "artist" because to me it denotes a person who works with items that can be functional as well as aesthetically pleasing.  Since I was a child, I was captivated by working with my hands and creating things.   I took art classes in high school, but I always felt more comfortable with 3 dimensional creations instead of the traditional paintings and drawings.  

I have experimented with almost every craft possible, usually focusing on ones that take some degree of technical skill.  Lots of trips to the library enabled me to learn the basics and time and practice took care of the rest.  Some of my favorites include scale miniatures, woodcarving, scrimshaw, and lost wax casting. 

In the late 90's, I discovered gourds, and it was an immediate addiction!  Here was a craft that combined many of the skills that I had developed over the years.

My current emphasis is on educating other gourders.  I travel extensively to teach power carving and many other gourd subjects.  While I still enjoy creating my own art, I also love getting new people excited about gourd crafting.

I have lived in Arizona since 1975.  During that time, I became fascinated with the art of the southwesten Native American tribes.  I have a distant Grandparent who was a full blooded Delaware Indian, so I have always been interested in Native cultures.

I love the designs of the Southwest, and often use designs that are common on pottery from this region.  Working on gourds gives me the freedom to create my own "pottery" using carving, woodburning and painting.

It is important to take advantage of your natural talents.  Some people will excel at cutting and carving, while others might be more comfortable with painting or weaving.

Don't be afraid to try something new or different.  Experiment, and don't be afraid to fail.  Some of my most spectacular failures taught me the most...

Where you can find my gourds for sale:

Tucson, Arizona

Tucson, Arizona

Four Winds Trading Company

San Diego, California

Tubac, Arizona

(Click on logos to visit these galleries)

At the Wuertz Gourd Festival

On this web site!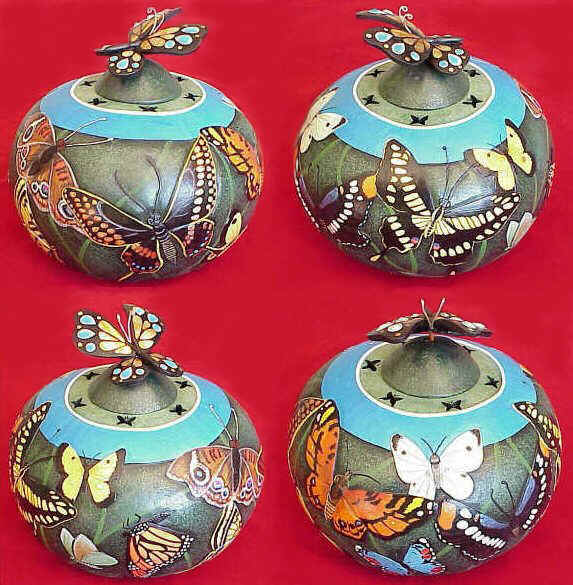 4 Views of

"Painted Ladies"

Butterfly on lid is made from gourd and has inlaid turquoise.  Painted Butterflies are raised in shallow relief from surface of the bowl.  Small cutout butterflies and bone heishi band the top.

In the collection of Lola Stude, Corrales, NM

Proud Member of:

American Gourd Society

Old Pueblo Gourd Patch

Arizona State Gourd Society

(Past President)

California Gourd Society

New Mexico Gourd Society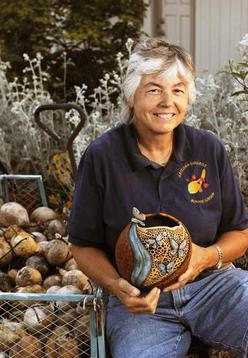 (You will need Adobe Acrobat

to view this file.  If you need to download this FREE software, click HERE.)
Click here to read "Desert Leaf" newspaper article, "Gibson's Got Gourds"