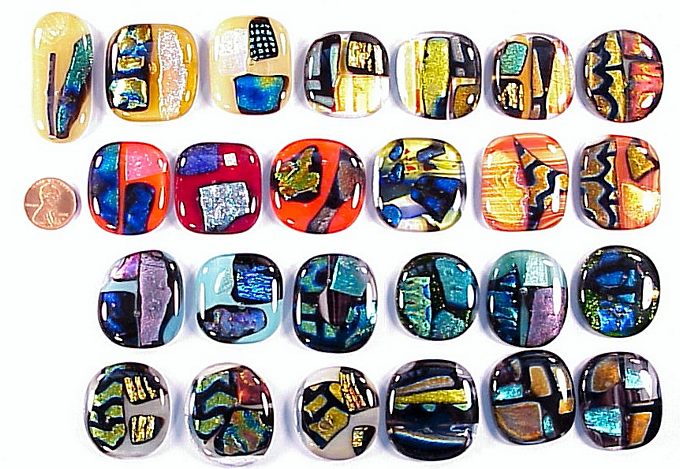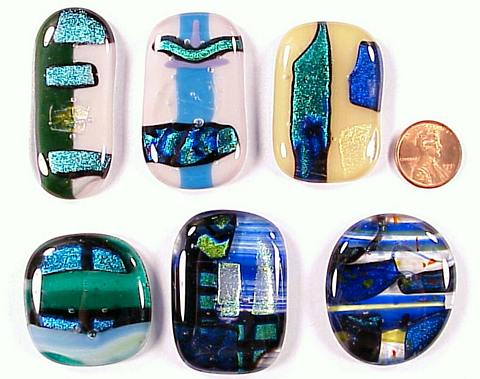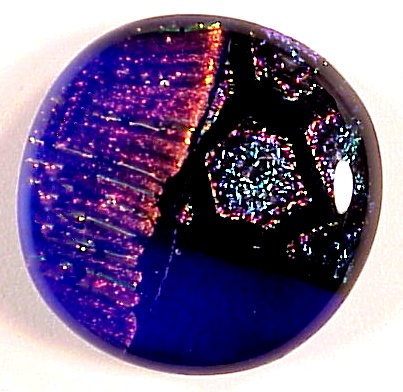 A closeup of one piece to show the detail.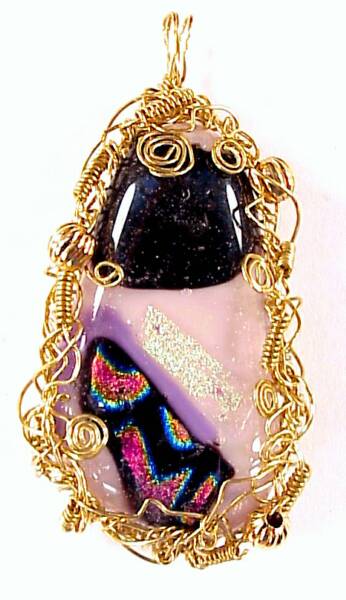 The colors in these glass cabs are much more intense than the photos show - there are metallic and irridescent effects in each piece. Some of the closeups will give you a better idea of how the pieces look; the metallic sparkle and shine of the glass is often lost in photographs. The dichroic glass relects and transmits different colors and looks different depending on the surface it is placed on, the angle of light and other factors.  I guarantee the actual cabs look even better!

Multiple pieces are available for some styles, while others are one of a kind.  Not all are shown.  Each piece is handmade; so even when there are multiple pieces available, they will have slight variations. Some will have small bubbles.

You can also make beautiful wire wrapped jewelry from these glass cabs.  These are some samples of my work; I also make pieces with Sterling Silver/Goldfilled wire.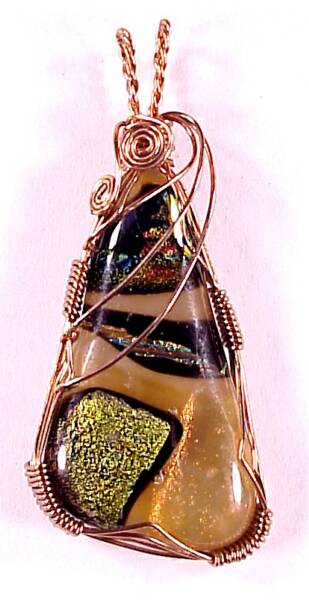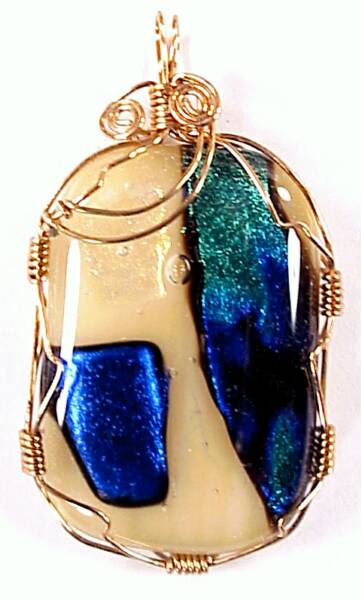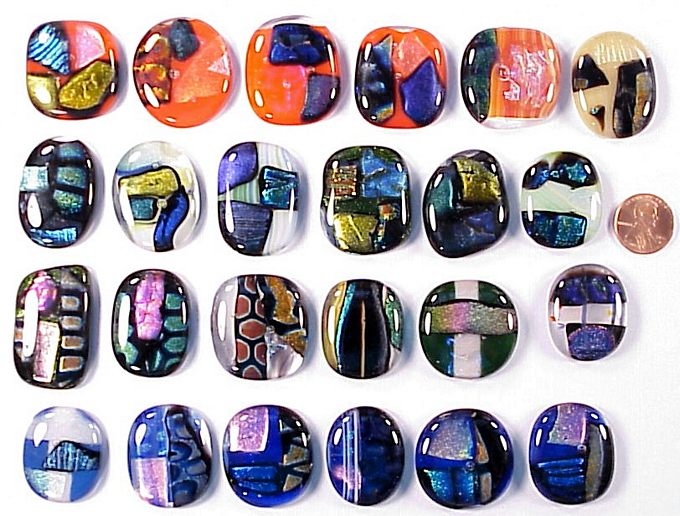 Above and Right: "B" pieces - $5

Assorted, Squares, Oblongs Triangles and Rounds

Below: "R" pieces - $6.50

Larger pieces; these are ideal for wire wrapping into beautiful jewelry (or add a glue on bail for a fast gift!)

"W" pieces - $7.50

Largest pieces and/or more dichroic. Impressive jewelry pieces or when used as a focal point on a gourd.

These are examples only!

These items are beautiful when inlaid into your gourds or used as accent pieces.


*Looking for turquoise, heishi and other special items?  To make each page load faster, these items are now on their own page:

Please email me if you have questions about your order, or prefer to not use the shopping cart feature.  The shopping cart is designed for optimal operation when used with Windows Explorer.

NOTE: All glass pieces shown below are only representative samples; many of these pictured are already sold, and many others are available but are not pictured. 

Do you have a special request?  Add the appropriate priced cabochon into the cart, and then please send me an email with your color or shape preference. I will do my best to meet your needs.
Don't know how to wirewrap?  Try these easy to use glue-on bails. 

These bails are easily attached to the back of any kind of jewelry such as dichroic glass or other flat backed items. Attach them with a small amount of glue or epoxy. The bails are silver plated and have a recessed area which minimizes glue mess and creates a nice clean finished appearance. 

Available in two sizes.

Small Silver Bail  

$.50 ea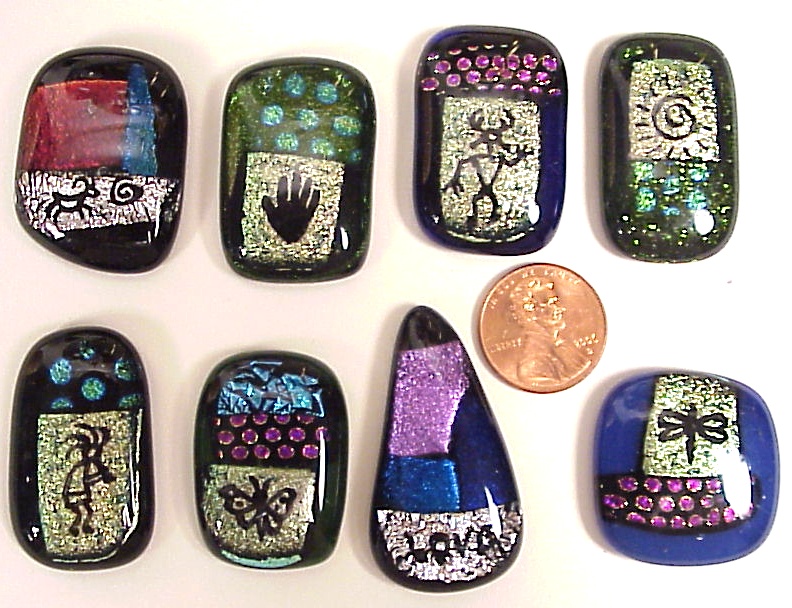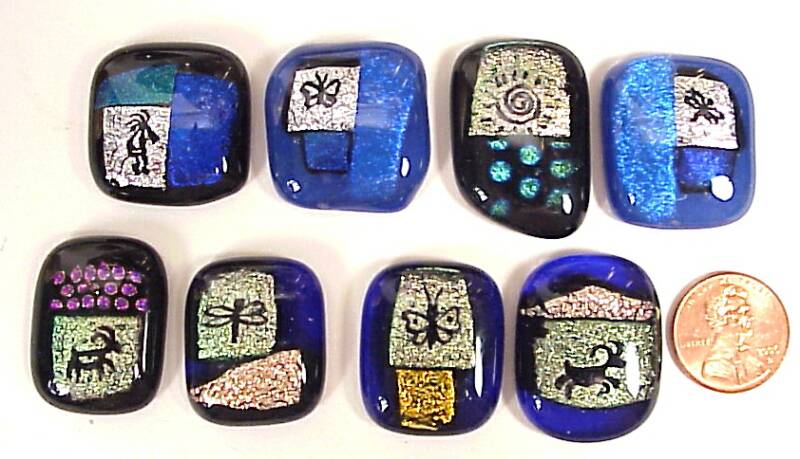 NEW!  Etched Dichroic Glass Cabochons

The dichroic glass is engraved prior to fusing so the design is embedded inside the cabochon.  Choose from Dragonflies and Butterflies, or Petroglyphs (spirals, kokopellis, running sheep, hand, etc.). 

NOTE: These are samples only.  Your piece may vary.

More choices are available than shown here.

Etched Dichroic Glass - Butterflies and Dragonflies

Etched Dichroic Glass - Assorted Petroglyph

Etched Dichroic Glass - Assorted Petroglyph Large

3 Matching Pieces Special - $16 These pieces normally sell individually for $6 - $6.50 each. Sets are discounted - with matched sets you can create gourds similar to the ones pictured here.  Colors vary.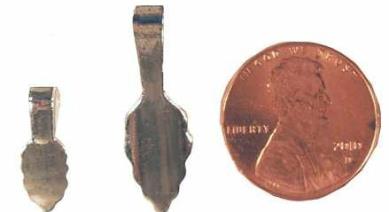 Large Silver Bail  

$1.25 ea  

Out of Stock